This 12-part How to Build an Elementary School Schedule series shares expert step-by-step guidance and proven scheduling strategies to help you create better schedules this year.
While it may seem early to start thinking about next year's schedule, early preparation and planning are key to success when it comes to scheduling. Here are the six steps you should take in the spring to get started:

Assemble your scheduling team

It is very easy to overlook one of the many interdependencies that exist when preparing a master schedule. Approaching scheduling as a team sport helps to avoid this. Start by identifying and assembling a strong scheduling team. Your scheduling team should consist of a cross-section of grade-level teachers, special education teachers, interventionists, and related services staff.

Set clear goals and instructional priorities

What are the top priorities for your schedule this year? What has worked well in the past and what can be improved? Collect feedback from teachers to identify two or three items to focus on improving. Prioritize those items. When you start scheduling with clear goals and priorities, it makes managing the inevitable scheduling trade-offs easier.

Start early

Starting early will allow you and your team to set goals and priorities, revisit scheduling guidelines, update scheduling tools, and explore different approaches to achieve your goals. When you start early, your team has more time to respond to challenges, collect feedback, and make adjustments. This often results in a better schedule rather than one that simply makes everything "fit."

Define roles and responsibilities

Having clearly defined roles and responsibilities helps to ensure that everyone understands how they contribute to the schedule creation process. This also helps support accountability for schedule creation and adoption.

Collect all the necessary information

What are your projected numbers of sections per grade? What are your guidelines for minutes of reading, math, and specials?

Create a timeline

Set a timeline for schedule creation that starts with initial conversations and feedback and follows through to final drafts and revision support. The timeline should include milestones for finalizing instructional guidelines, setting goals and priorities, initial master schedule drafts, final master schedules (that include ELA, Math and Intervention blocks), general education teacher schedules and student support schedules (special education teachers, related services staff, ELL, etc.).
Preparation and planning are crucial to your scheduling success for the next school year. Start taking action now so that you and your scheduling team will be well-positioned for success this scheduling season.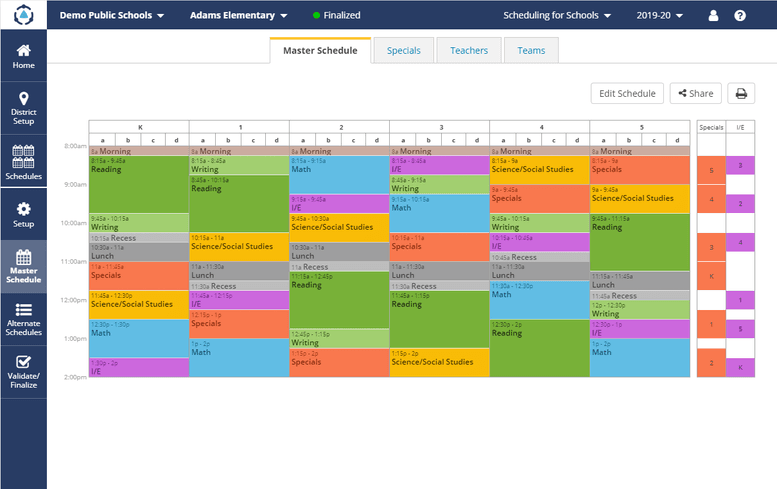 Elementary Scheduling Software