This 12-part How to Build an Elementary School Schedule series shares expert step-by-step guidance and proven scheduling strategies to help you create better schedules this year.
Historically, many schools have left scheduling core instruction to individual homeroom teachers, whereas specials, lunch, and recess were scheduled by the principal. However, taking a coordinated, school-level approach to scheduling core instruction for all grades and subjects can have tremendous benefits for students and teachers alike.
Scheduling ELA and math instruction as part of the master schedule unlocks powerful opportunities to improve supports for students and strengthen student learning. You'll continue to leverage your instructional minute guidelines and push-in/pull-out rules as you place core blocks on your schedule.

Adhere to grade-level instructional minute guidelines to ensure students receive equitable access to minutes of instruction

Leverage the instructional minute guidelines you already established to begin scheduling core ELA and math blocks. Grade-level scheduling also helps make sure that students within the grade receive the same access to daily minutes of core instruction.

Stagger ELA and Math blocks within the schedule to maximize the reach and impact of student services and support providers

Staggering ELA and math enables you to maximize opportunities for push-in and pull-out supports throughout the day. If your instructional guidelines allow coaches, interventionists, and special education teachers to deliver push-in support during core subjects, staggering these blocks by grade throughout the day allows more staff to move from grade to grade and maximize regrouping strategies to serve students. Additionally, staggering ELA and math across grades helps stagger other periods throughout the day. This can increase opportunities to leverage other periods to deliver pull-out services, pending your guidelines, for students who need additional support.

Improve transparency of push-in support opportunities by clarifying components of core blocks

When you created your instructional minute guidelines, you may have started with an ELA block of a minimum of 90 minutes. If you allow push-in support during some components of this ELA block, consider breaking down the 90 minutes into smaller units of instruction to guide push-in support staff. Some approaches to guide push-in support include:
Define block by type of instruction (whole-class or small-group)

Define block by components (phonics, guided reading, independent reading, etc.)

Define block by curriculum (reading workshop, writing workshop)
For example, if push-in support can occur during small-group instruction but not whole-group instruction, you can create a small-group block (e.g. 15 minutes) that follows a whole-group block (e.g. 75 minutes for other ELA components) to guide push-in support opportunities.
Schedule as a team to leverage staff expertise and to build buy-in and schedule adoption
Shifting to a coordinated, school-level approach to scheduling may represent significant change and be hard for team members that have historically had the autonomy to create their own schedules. For this reason, as well as ensuring staff expertise and insights are incorporated into scheduling decisions, we suggest schools create scheduling teams that include principals, special education and curriculum leaders, and grade-level teacher representatives. When schedules are built using this team approach, everyone becomes more aware of scheduling goals, staffing and facility constraints, and the trade-offs that must be made. This also helps drive student-centered discussion and improves schedule adoption.
As a school or district leader, you have the challenge of leveraging your limited resources in the most effective ways to have the greatest positive impact on student outcomes. Working as a team, you can help people understand this responsibility as well as broaden ideas to help drive student achievement.
Don't miss the powerful opportunities to improve supports and strengthen student learning afforded by taking a coordinated, school-level approach to scheduling core instruction!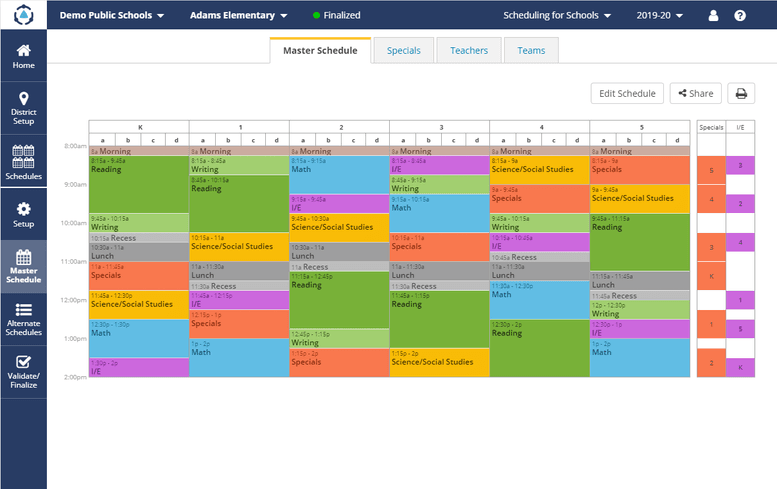 Elementary Scheduling Software