In fall 2022, the leadership of East Baton Rouge Parish School System (EBR) was excited to help students transition back to in-person schooling following the years of disrupted learning caused by the Covid-19 pandemic. Leadership was particularly concerned about addressing their third-graders' reading fluency, a critical skill that many third-grade students had been struggling with due to multiple periods of remote learning since their kindergarten year.

EBR's leadership had heard about the incredible results in literacy achieved with District Management Group's Breakthrough Results program. Determined to do all they could to help their third-graders, EBR decided to try this new approach, and launched a 10-week Breakthrough Results Literacy Challenge.

The 10-week Breakthrough Results program yielded tremendous results for East Baton Rouge's students. The third-grade students who were part of the Breakthrough Results program (BTR students) increased their oral reading fluency by 75% within just 10 weeks (Exhibit 1). Between the beginning-of-year (BOY) and middle-of-year (MOY) assessments, BTR students improved by 33 words per minute (WPM) on average. BTR students grew 32% more than their like-peers who did not participate in BTR, and caught up to the average third-grader in the district.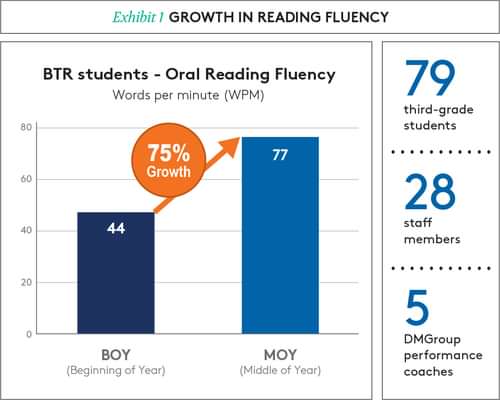 Launching the Breakthrough Results Program with a SMART Goal

The Breakthrough Results (BTR) Challenge involved 79 third-grade students and 28 staff members across five teams that included teachers, literacy coaches, reading interventionists, paraprofessionals, assistant principals, and principals.
Each of the five teams was assigned a dedicated DMGroup performance coach to support the work.
At the very first meeting, each team was asked to focus on setting a Specific, Measurable, Aggressive but Achievable, Realistic, and Time-bound (SMART) goal to achieve during the 10 weeks of the Breakthrough Results program. Each team was asked to set their literacy SMART goal specifically in terms of growth in words per minute as measured by DIBELS assessments and to focus these efforts on those students with a starting fluency of 0 to 70 WPM. The SMART goal is critical, as it serves as the North Star that guides the team in their data analysis, strategy deployment, and continuous improvement efforts to get results for students.
This example of a SMART goal from one team demonstrates the specificity and focus involved in the Breakthrough Results program:
By Dec 9th 2022, 17 out of 23 BTR students with a starting fluency of 0-70 WPM will grow by 20 WPM during the BTR challenge.
The Importance of Progress Monitoring
With a very clear goal established, each team went on to brainstorm strategies for how to raise their students' reading fluency. Then, each week during the 10-week program, each team met with their DMGroup performance coach to analyze their target students' DIBELS assessment data, discuss student growth, reflect on the strategies they were using, and decide on how to move forward. In addition, the performance coach supported the team by teaching them critical skills in data analysis, root cause identification, and facilitation of action-oriented meetings that would benefit staff and students beyond the 10 weeks of the Breakthrough Results challenge.


Identifying Strategies That Make a Difference
Through the course of the 10 weeks, the teams tested a variety of strategies, tracked their efficacy, and then adjusted, developed, or abandoned strategies based on their students' data. Their laser-like focus was always on the results and achieving the SMART goal.
At EBR, a combination of the following strategies proved most effective:
Data-driven small-group instruction: Principals and teams reflected on the benefit of using embedded data analysis as the standard operating procedure to inform small-group instruction, which ensured they were singularly focused on supporting student literacy growth.

Grouping students by skill level: Team collaboration revealed different strategies for grouping students. Biweekly progress monitoring helped teachers identify which strategies worked best, which led to an understanding that grouping by skill level was most effective for bolstering student growth.

Leveraging supplemental resources: Cross-functional team discussions helped teachers understand how to utilize district-provided resources such as Amplify and Achieve 3000.

Involving students in goal setting: Engaging the students in focusing on the goal helped build their confidence and investment in their learning journey, which will carry through to the students' other subjects and inform future practices for teachers.

Increasing professional development: The BTR structure helped team members identify areas for ongoing professional development to increase their comfort with different literacy strategies and platforms. The cross-functional collaboration helped surface these needs to the district for system-wide support.
Extraordinary Results For Students
With the BTR teams laser-focused on implementing their strategies and measuring their progress, they made a tremendous difference in the lives of their third-grade students.
BTR students started an average of 10 WPM behind other students in the district and closed that gap in just 10 weeks. BTR students grew by 33 WPM, compared to 24 WPM for non-BTR students (Exhibit 2).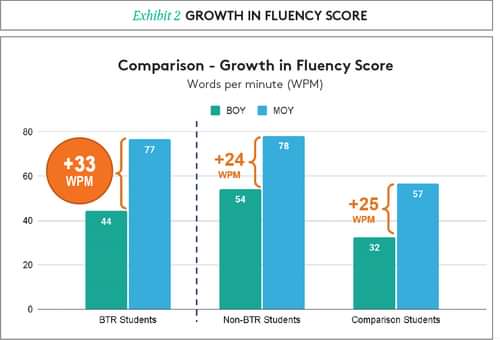 ---

Breakthrough Results program had a real impact on individual students
Luis's Story
Luis would not try to sound out words prior to the BTR Challenge. He would wait for the teacher to tell him every word even though he knew the sounds. Towards the middle of the Challenge, he began to read and sound out words on his own.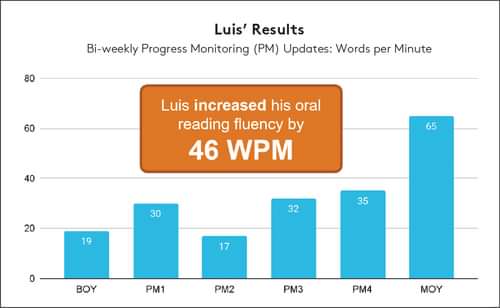 "I love reading now that I understand how."
- Luis